Main composition parts
1.Hydraulic trolley
Hydraulic rise and down, mechanical walking, loading 12T.
2.Uncoiler
Hydraulic type, loading 12T.
Power feeding, motor, reducer and chains takes the feeding shaft, running positive or negative.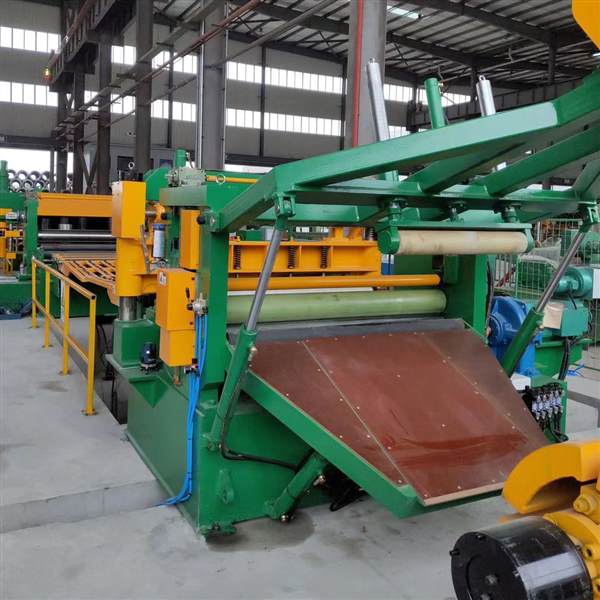 3.Hydraulic lead and feeding material, and 3 rollers leveler
Consists of gantry, hydraulic arm organs, two feeding rollers, 3 level rollers motor, and reducer, etc.
It is using for shovel head for coiled material, take plate to traction. Hydraulic lift, hydraulic pressing tight ,prevent the coil material to be loose , and cooperate with the stripping head feeding device to take the plate into traction roller. Power traction tract the plate by two clamping rollers, the upper clamping rollers do hydraulic lift.
Institution: lead material frame, lead rollers, lead motor chains, chains, lifting cylinders, shovel head plate, telescopic panel, driving cylinder.
Main function: Auxiliary uncoil, feeding roller are drove by motor. Help uncoiler take plate head to shovel plate. Then lead it to feeding clamp rollers, the shovel plate can do rise-down lift and forward-backward ,during running, this device back to working position.
Clamping institution: frame set, slide feeding shaft, driving motor, pressing cylinder etc.
Main function: take the plate into behind of equipment, the driving adopts motor cyclonical pin wheel reducer and clutch.
There are 3 rollers in the behind of clamp roller.
4.Shear
With 4*1600 shearing machine.
5.Hydraulic storage
Consists by machine frame, movable bridge, raceway, hydraulic lift.
6.Limited working table(correct guide device)
It is consists of machine frame, support rollers, guide limit, and adopts manual adjust.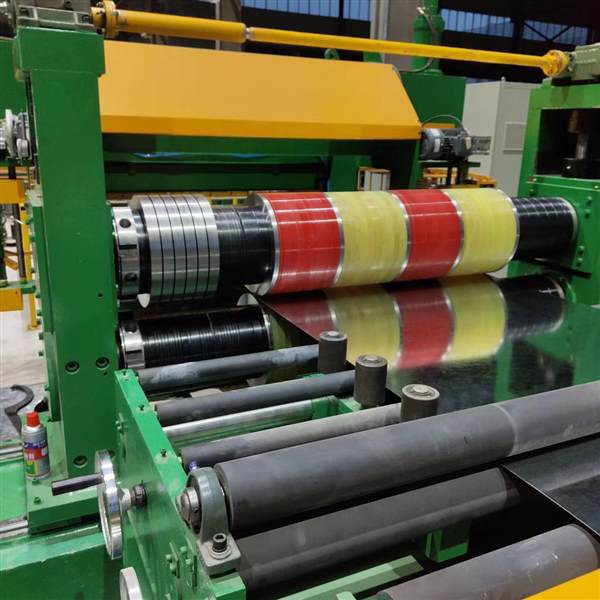 7.Slitting unit
This equipment is a device which is slit the plate to request width. Through combined sleeve can flexibly change the cutting width of finished products. AC motor drive gear box, drive round cutter spindle through a universal shaft coupling, stand-alone can reverse. Adopts hydraulic cylinder driving open the frame by side, change blade very convenience.
8. Margin waste mechanism
It stand in the two side of the line. The equipment for waste edge can be stepless speed regulation, to achieve the synchronization of disc shear. In addition, the baffle is removable, so can easily remove the scrap recoiler. Composed of a torque motor, reducer, rotary, base etc.
9.Hydraulic storage bridge
Consists of machine frame, movable bridge, raceway, hydraulic lifting.
10. Pre damping material pressing device
It is composed by frame, pre feeding axis, damping, improve pressing mechanism, pressing mechanism, feed shaft.
The front end has two groups of belt separator, make the steel belt which enter into winding machine do pre separation. At the same time the coiling strip produced tension, convenient to take roll strip closely not loose. Tension control adopts cylinder pressing plate type tension device, by adjusting the hydraulic valve to adjust the pressure under pressing. Mainly composed by the housing, upper and lower tension plate, synchronous shaft, cylinder, base and other components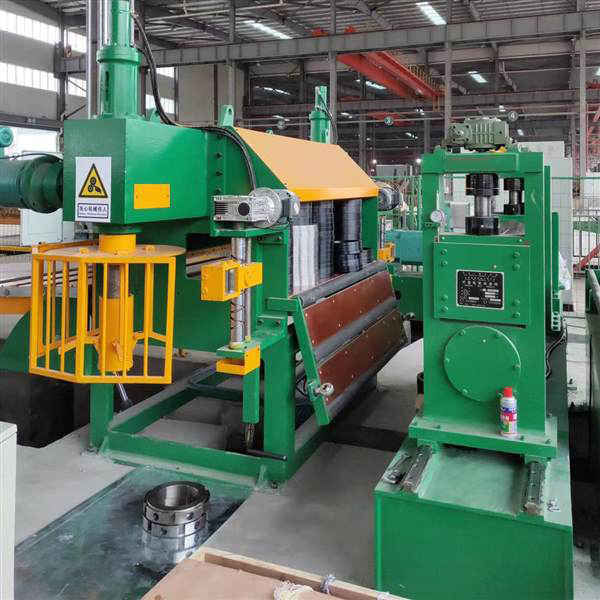 11.Recoiler
Separate and recoil the steel belt which was slitting. The drum is arm increases type (with auxiliary support), it is consists of main shaft, Wedge block, rod, jaw, arc plate; drum rotation driven adopts AC motor, hydraulic radial expansion, clamping jaws to jog positioning hydraulic expansion structure. The drum is provided with a hydraulic cantilever coil separator, with the coil increases automatically rise, collected the material roll and can always pressed steel coil. Return material with hydraulic push plate, in order to ensure the return of material is good, not loose layer steel roll . Mainly composed by the motor, reducer, drum, a fixed base.
With hydraulic auxiliary device.
With hydraulic pressure arm separator device .
With hydraulic launch device.
12.Hydraulic discharge car
The car's lifting institution adopts hydraulic driving, it walks without power ,and it is four columns direction, loading 15T.
13.Electric control
This system adopts AC frequency conversion controller to control the running speed of uncoil motor, feeder motor, slitting motor, and recoil motor.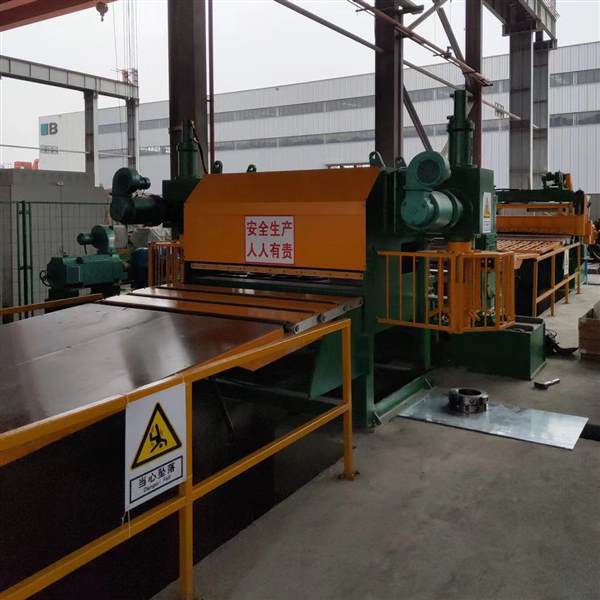 14.Hydraulic station
The hydraulic station of this line consists of 1 set hydraulic station, suitable pump, valve and pipe, it provide power for hydraulic car, uncoiler, movable table plate, slitting machine, tension control device, recoiler, discharge car etc. Adopts Chinese famous and good quality hydraulic pump and series solenoid valve to ensure the hydraulic system's reliable working.