Jiuying provides a complete set of JCO/JCOE/LSAW pipe production line machines and equipments, which can directly produce large-scale pipes and other products.
The main equipment is
The JCO pipe production line represents cutting-edge technology in the field of steel pipe production, converting a piece of steel plate into high-quality large-diameter submerged arc welded steel pipes. The following is an in-depth analysis of this production line and its core equipment: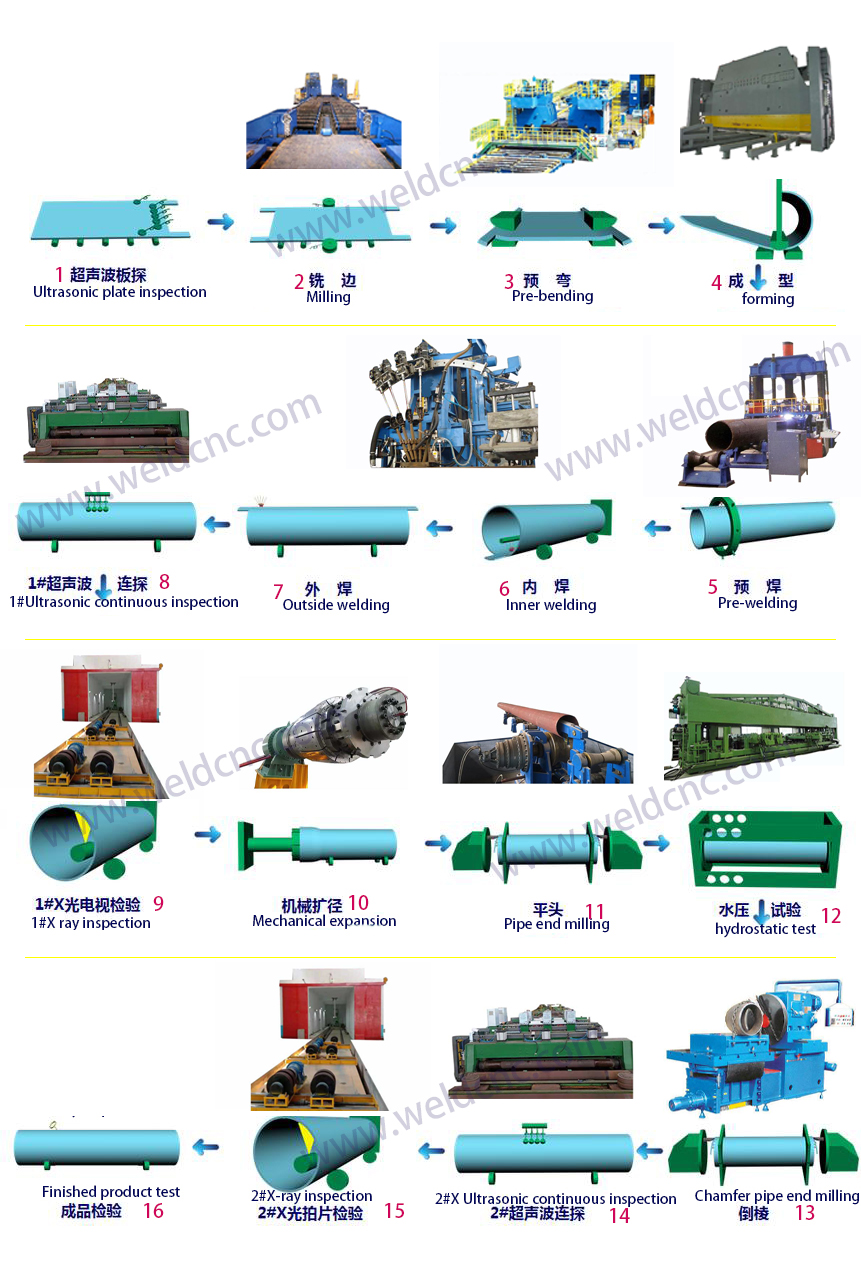 Edge milling machine: Each steel plate must pass through an edge milling machine before entering the production line. This step is not only to remove burrs, but also to ensure a seamless connection during the welding process. The quality and strength of steel pipes can only be guaranteed when the edges are flawless.
Pre-bending machine: The pre-bending machine provides the steel plate with its basic shape. This step is the key to shape definition, paving the way for subsequent bending work.
Bending machine: Based on the pre-bending machine, the bending machine further shapes the steel plate to ensure the uniformity and stability of the steel pipe.
Gantry flame cutting machine: With advanced flame cutting technology, this equipment can cut steel plates quickly and accurately, laying a solid foundation for the next step of welding.
Steel pipe welding machine: Welding is the most critical part of the entire process. Efficient welding not only ensures the structural integrity of the steel pipe but also extends its service life.
External welding machine: In order to further enhance the strength of the steel pipe, the external welding machine further strengthens the external welds to ensure uniform and stable performance under various conditions.
Hydraulic testing machine: The safety of steel pipe use is crucial. The hydraulic testing machine ensures that each steel pipe can work under harsh conditions without failure by simulating actual working pressure.
Pipe end beveling machine: In order to better connect with other components, the pipe end beveling machine designs a specific shape for the steel pipe to increase the firmness of the connection.
Pipe Expander: This is an adjustment tool that ensures the steel pipe meets the specific needs of different projects.
Back bending machine: Any slight deviation will affect the performance of the steel pipe. The back bending machine ensures that the steel pipes are flawless and meet the highest industrial standards.
All products can be purchased as a set or individually, if you are interested in our JCO pipe production line or any equipment in it, or want to know more about it, please feel free to contact us. Our team of experts is ready to provide you with professional consulting services to ensure your production needs are met. Don't miss this opportunity to network with top experts from within the industry, get in touch and let's create even better products together!
Jiuying production line list
If you have other production line requirements, you can also contact us directly for consultation.